Ride Control Components for 2019 Jaguar XJR575
No.
Part # / Description
/ Price
Price
Accelerometer
XJ series. F-Pace. XF. Adaptive damping control. XE series. Accelerometer sensor. F-Type. Module & sensors. I-Pace. XK, XKR.
Steering Sensor Assembly
Sensor
XF. Stability cntrl. S-Type. XK, XKR. XJ. To vin h20062. 2000-02, steering rotation. From vin h20063.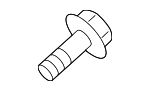 Control Module
Active Suspension Control Module
To vin v39426. XJ series.